WIDE-EYED DESIGN…
WEBSITES
Website Design & Build – Durham Marketing Agency Custard & Bear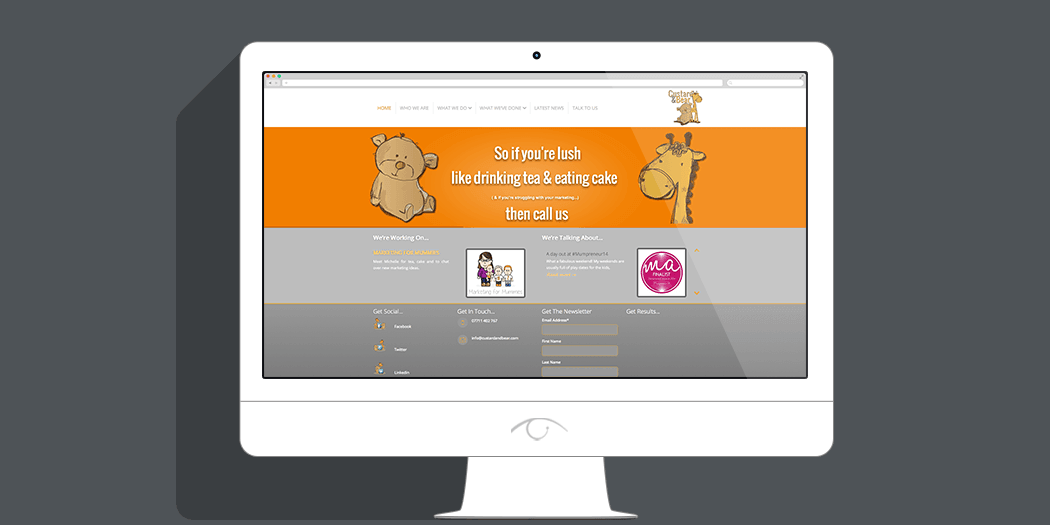 Durham marketing agency Custard and Bear are rapidly becoming the go-to marketing miracle workers for  North-East businesses so when they asked us to design and build their website we knew that we had the freedom to design and develop a bespoke website design which would showcase their unique brand identity.
Custard and Bear wanted a website which they could update themselves so the website was built using the WordPress Content Management System and a premium framework theme which was then highly customised to match our initial layout design.
Rather than overload the Home Page with text, we used a main slider panel to describe their business services and added rotating news panels to highlight their very latest work. An automated newsletter signup form, social media integration including a Twitter feed were integrated into the site to capitalise and build upon the strong following which Custard and Bear already had.
As a final touch some simple animation was added throughout all of the pages to emphasise the vibrancy and positivity that underscores all of Custard and Bears work.
"
"
Helena's web design expertise, her common sense advice on SEO and her genuine ability to understand a client's needs and represent them visually put her right at the top of the game. I have yet to find another graphic designer, web site creator and marketing guru like her in the North East.
M Rose, owner Custard & Bear